Noia Galicia - Medieval district: 1
The medieval district of Noia is at the opposite side of town to the main plaza, but is still only a five or six minute leisurely walk in what is a compact municipality.
The mediaeval part of Noia has some very old buildings and narrow cobbled streets with several tastefully maintained bars at its centre. It also has what we consider to be one of the least unimpressive looking, but best tapas bars in Noia, "la Parra".
Below, one of the original plaza's in the medieval quarter where there are several busy bars (July 2002).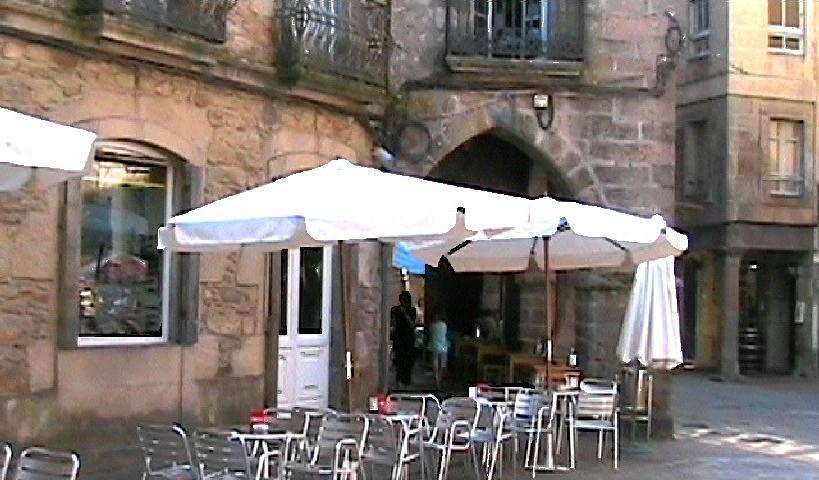 This part of Noia, whilst nice during the day, is best enjoyed at night when its true atmosphere can be appreciated. Many of the buildings have subtle external lighting which creates a magical aura, prompting you to consider that maybe a thousand years earlier another foriegn traveller may well have been enjoying a drink and some tapas in the exact same spot you now occupy.
When we visited this district on the first evening of our holiday in July 2004, there was a traditional Spanish story teller captivating those frequenting the surrounding bars with stories and tales of Spain until 1.00 am in the morning. We did not understand a word, but it illustrates the way that Galicia and many other parts of Spain maintain their heritage and culture, something my home country of England really should take a lesson from. It would be nice to be proud of your country of origin from time to time, but those are emotions I have long since lost for England.
I don't know too much about the history of Noia's mediaeval quarter. In 2004 we bought a book featuring Noia which goes into great detail about its buildings, culture and history. Unfortunately, it is written in the Galician language of Gallego which we are struggling to decipher. Certainly, many of the buildings are several hundreds of years old and although now bars and shops, started life off as homes and businesses, many associated with Noia's fishing industry. Incidentally, when referring to any of the town squares the Galicians will use the words "la alameda", which literally translate to "the park".

As we interpret more of the book we will add additional information to this and other pages.
The church of San Martino and Noia (Galicia's) old town squares
Not surprisingly, one of the oldest buildings in Noia is a church, "Igrexa de San Martino" (St. Martin's Church), built in 1434. It is in one of Noia's original squares, in the mediaeval district, and is representative of Galician Gothic architecture within the region.
Below a photo of San Martino church, Noia, with the squares "cruceiros" (stone cross) in the foreground (July/August 2002).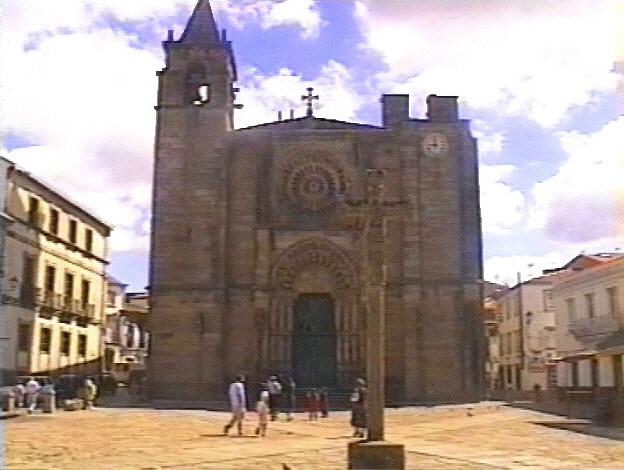 Noia was the seat of the Archbishop in this principality of Spain from 1168 to 1812 and another of the buildings in this plaza, adjacent to St. Martin's, was formerly the Arch Bishop's palace. This small square was renovated in the 1950's and represents the oldest and most original part of Noia, it also hosts some of the smaller and more traditional concerts during festival season.
There are in fact 3 different squares around San Martino, the "Tapal", "Fanequeira" and "Canton" and in days gone by they represented the hub of Noia.
Immediately opposite the main facade of San Martino's is a predominantly white building. This structure contains a section of old granite wall which dates back to the time of San Martino's and is the only remaining part of the Churruchaos country house. The arched window contained within it is gothic and there is a story associated with this window and torture. Another building on this piazza still has the original Archbishop's coat of arms emblazoned upon it, a relic from Noia's days as the seat of the Archbishop.
Below the building referred to above, with some reputed "unusual history", that sits adjacent to San Martino church (July/August 2002).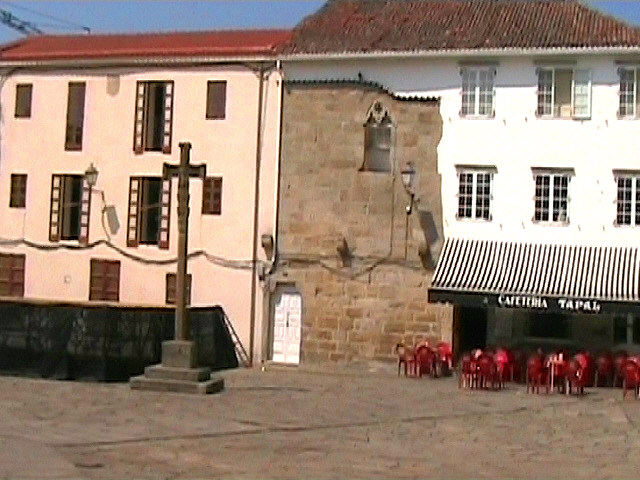 Although there is a defined part of Noia which is almost exclusively medieval, the rest of the old district has many buildings dating back to this era and very few buildings are less than a couple of hundred years old. Most properties in the locale are terraced and many feature balconies from the first floor up. There are also many buildings which are older than they appear, the result of white rendered facades being applied over the original granite stone traditional to the region of Galicia.