Guided tours of Galicia
The company below, Galicia Mystic Tours, are English speaking and offer a range of tours and excursions in the region of Galicia in the heart of Green Spain. Their tours range from one to multiple days in duration and cover just about every area, attraction and theme connected with Galicia. They are nice, knowledgeable and highly personable people and we would recommend them to anyone wanting a guided tour of the region. The company has been trading for since 2006 and its owners are Canadian and Galician.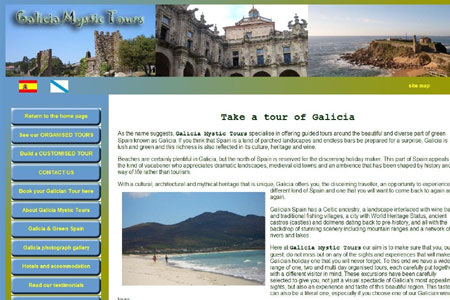 Galicia Mystic Tours For a unique Galician experience
Let Galicia Mystic Tours show you the best of Galicia.
We have a wide range of tours and excursions covering the whole of Galicia and even taking in special activities like wine tasting and Galician culture. We can take you around Santiago de Compostela in a single day, or spend a week showing you all four provinces of Galicia. Make us part of your Galician adventure.
To visit our website click on the image or the button above or contact me , Rose Marie, at

info@toursofgalicia.net